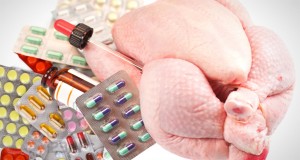 March 14, 2013
Consumers Union Endorses Bill to Stop Superbugs, Curb Overuse of Antibiotics on Food Animals
WASHINGTON, D.C. – Consumers Union, the policy and advocacy arm of Consumer Reports, today endorsed the Preservation of Antibiotics for Medical Treatment Act (PAMTA) introduced by U.S. Rep. Louise Slaughter (N.Y.).
The bill would stop the overuse of antibiotics on food animals, a practice that has been proven to create antibiotic-resistant bacteria.  In recent months, there has been a sharp increase in the number of "superbugs" that are resistant to nearly all last-resort antibiotics, according to the Centers for Disease Control and Prevention (CDC).
Ami Gadhia, senior policy counsel for Consumers Union, said, "To stop the spread of superbugs, we need Congress to pass this bill to curb the overuse of antibiotics in food-producing animals.  The declining effectiveness of antibiotics has become a national health crisis.  One of the reasons we're seeing a jump in superbugs is the overuse of antibiotics on healthy food animals."
Gadhia added, "In a national survey we took last year, 86 percent of consumers said meat raised without antibiotics should be available in their local supermarket.  Our organization urges Congress to pass this bill without delay, and we commend Rep. Slaughter for her leadership on this issue."
Consumer Reports published the study "Meat on Drugs" in 2012.  The study detailed how approximately 80 percent of all antibiotics sold in the U.S. are not used by humans, but by the meat and poultry industry mostly to make animals grow faster or to prevent disease in crowded and unsanitary conditions.
Consumers Union believes that to preserve antibiotics for treatment of disease in people, use on animals must be drastically reduced.  Last year, the nonprofit organization launched the Meat Without Drugs campaign, which is calling on the Trader Joe's grocery store chain to only sell meat raised without antibiotics.
More information about the Meat Without Drugs campaign is available online at the Consumers Union site www.notinmyfood.org.
***
Media contact: Kara Kelber, Consumers Union, 202-462-6262, kkelber@consumer.org