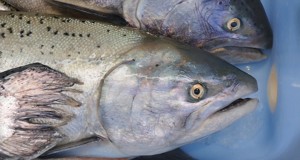 November 15, 2013
CONSUMERS UNION ENCOURAGED BY CLOSE VOTE IN WASHINGTON STATE ON GENETICALLY ENGINEERED FOOD LABELING INITIATIVE; 
VOWS TO CONTINUE TO FIGHT FOR MANDATORY LABELING IN STATES
Yonkers, NY—Consumers Union, the policy arm of Consumer Reports, although disappointed that I-522, the Washington State initiative that would have required labeling of genetically engineered (GE) food, failed to pass, said it was encouraged by the close, final vote of 51 to 49 percent. The Yes on I-522 campaign made its final announcement late yesterday.
"This issue is far from over. We believe consumers have a right to know what they are eating and we will fight to give consumers the choice to buy genetically engineered or non-genetically engineered foods," said Jean Halloran, Director of Food Policy Initiatives at Consumers Union. "Just as we label food that is frozen, derived from concentrate, or irradiated, food that is genetically engineered should be labeled."
Multiple polls have shown that consumers want GE food to be labeled, but there was an onslaught of misleading industry advertising leading up to the November 4 vote. "It is remarkable that the initiative came so close to winning anyway, despite supporters being outspent by industry opponents three times over," said Halloran. "We think mandatory labeling of genetically engineered foods will ultimately prevail."
Consumers Union strongly supports GE food labeling legislation, in both Congress and in states. Consumers Union's senior scientist, Dr. Michael Hansen, an expert on the science of GE foods, was featured in a television ad for the Yes on 522 campaign.
Genetically engineered salmon, designed to grow to maturity in half the time of normal salmon, is not yet approved, and would be the first GE animal food to reach consumers.  Hatched in Canada and grown in Panama, it may soon be on the market. Without labels, consumers won't know whether the salmon in their local store is genetically engineered or not.
"In addition to our continued support for state efforts to label GE foods, we will continue to fight for the labeling of genetically engineered salmon, should FDA approve it for the marketplace," said Halloran. "Independent studies have found that there would be no significant increase in food prices if GE labeling were required, and FDA does not test for the safety of these foods before they end up on consumers' dinner tables."
 With support from Consumers Union earlier this year, Connecticut passed legislation to require labeling of GE foods. It was the first state in the country to pass a comprehensive GE labeling law, however, the bill will not be enacted until other New England states pass similar labeling requirements. Maine has followed suit, passing its own labeling law which now awaits the Governor's signature. To date, at least 20 other states, including New York and Illinois, are considering similar bills.
# # #
Naomi Starkman
Food Policy Media Consultant
917.539.3924-c
Twitter @naomistarkman
Facebook