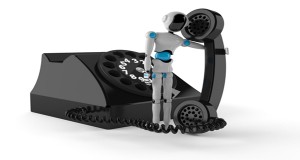 Tuesday, April 21, 2015
Consumers Union: AT&T & Verizon's Response To Robocalls Falls Short of What Consumers Need; No Response Yet From CenturyLink to End Robocalls Campaign
Over 275,000 Have Joined CU's Campaign Calling on Major Phone Companies to Provide Free, Effective Tools to Block Unwanted Calls
SAN FRANCISCO, CA – AT&T and Verizon aren't doing enough to protect their customers from being harassed by unwanted robocalls, according to Consumers Union, the policy and advocacy arm of Consumer Reports. In February, Consumers Union launched its End Robocalls campaign (www.EndRobocalls.org) and called on the major phone companies to offer their customers free tools that effectively block unwanted robocalls.
In response, AT&T and Verizon sent letters to Consumers Union outlining their current efforts to curb robocalls. Unfortunately, those efforts have failed to put a dent in the daily deluge of unwanted calls targeting their customers. So far, CenturyLink has not responded to Consumers Union's campaign.  
"We appreciate the initiatives launched by AT&T and Verizon to limit robocalls, but they fall far short of what their customers expect and deserve," said Timothy Marvin, grassroots organizer for Consumers Union.  "We're still waiting for a response from CenturyLink to find out their plans for protecting their customers from robocalls."
Over 275,000 people have signed the petition on Consumers Union's EndRobocalls.org campaign website demanding AT&T, CenturyLink, and Verizon give customers the choice to use free, effective call-blocking technologies to stop unwanted robocalls. 
In response to the campaign, both AT&T and Verizon highlighted their work with government, industry, and engineering groups to address robocalls and touted existing technologies in the marketplace. However, no effective tools are currently available for free to most consumers.
In letters sent to AT&T and Verizon, Consumers Union questioned the effectiveness of AT&T and Verizon's efforts to stop unwanted robocalls, noting that there were more than twice as many complaints to the Federal Trade Commission about Do Not Call List violations in 2014 as there were in 2007. In addition, while there are technological solutions to stop robocalls currently available to certain VoIP customers, AT&T, Verizon, and CenturyLink have been reluctant to offer them to all of their customers.
Consumers have told Consumers Union about their experience with tools to stop robocalls such as Nomorobo, a free service that is only available to certain VoIP subscribers. The company has said the tool is also compatible with landlines and wireless phones. But AT&T, Verizon, and CenturyLink do not offer this type of free tool to their landline and wireless customers, and they have not developed a similar service for their customers. CenturyLink does not offer this free tool to even its VoIP subscribers.
Some traditional landline users in Canada have access to technology that has proven effective in limiting unwanted robocalls, but U.S. phone companies have thus far failed to make it available to consumers. And while there are some commercially available call-blocking devices on the market, they put the onus on consumers to address unwanted robocalls. Consumers Union argues that consumers should not have to pay for this protection.
AT&T and Verizon have argued that call-blocking tools would prevent customers from receiving legitimate robocalls. Consumers Union maintains that customers deserve the right to decide for themselves whether the benefits of using call-blocking tools outweigh any potential downside and could provide carriers with a "white list" to let trusted numbers go through.  
"Americans are fed up with being harassed day in and day out by robocalls and are demanding relief," said Marvin. "It's time for phone companies to step up and give their customers the right to opt-in to free call-blocking services."  
Consumers Union can connect reporters with consumers frustrated with being harassed by robocalls. For more information, contact jmcqueen@consumer.org.

###
Contact:  James McQueen, jmcqueen@consumer.org or 914-378-2839 or Michael McCauley, mmccauley@consumer.org or 415-431-6747, ext 126