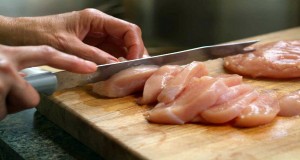 October 11, 2013
Consumer Reports Disappointed with U.S Department of Agriculture's Decision on Foster Farms
Dangerous outbreak strain potentially still on market; CR continues to urge consumers not to eat chicken from three affected plants
On Thursday, October 10th, the U.S. Department of Agriculture decided not to shut down three plants associated with a virulent strain of salmonella that has sickened close to 300 people in 17 states.
The U.S. Department of Agriculture does not have mandatory recall authority, but it does have the ability to recommend a recall to the company and to detain and seize adulterated products in commerce when a company refuses a recall. In this case, the USDA has chosen to do neither.
"It is shameful that the government would not take action despite so many consumers getting sick and becoming hospitalized in this ongoing outbreak. As recently as this week, the salmonella rates from these plants were running at approximately three times the national performance standard, which is completely unacceptable.
And just yesterday, the Florida Department of Public Health linked three cases of salmonellosis to Foster Farms chicken. The USDA is putting the burden on sick consumers to retain all their packaging while they are dealing with an acute illness. We believe there is enough information to take action to protect public health now," says Urvashi Rangan, toxicologist and Executive Director of Consumer Reports' Food Safety and Sustainability Center.
"We continue to urge consumers not to consume any raw chicken produced from the three affected plants—P-6137, P-6137A and P-7632," adds Rangan.
###
Contact: Naomi Starkman, 917.539.3924-c