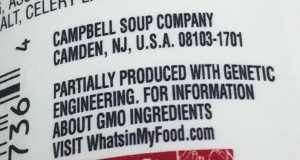 Consumers Union Urges Food Companies to Keep GMO Labels
WASHINGTON, D.C. – Consumers Union, the policy and mobilization arm of Consumer Reports, today is calling on food companies that are currently labeling their products as genetically engineered to continue to do so while new federal rules are being developed.
Many companies, beginning with Campbell Soup, began putting a "produced with genetic engineering" label on their GMO-containing products this spring in anticipation of Vermont's July 1 legal deadline requiring such labels.  President Obama today signed a law that preempts that state law.  The new federal law gives the U.S. Department of Agriculture (USDA) two years to develop regulations that require similar labels or other forms of disclosure nationally.
Consumers Union, joined by Friends of the Earth, U.S. Public Interest Research Group, Center for Food Safety, and Food and Water Watch, sent letters to the CEOs of Kellogg's, Pepsi, ConAgra and Nestle urging them to continue labeling products produced, or partially produced, with genetic engineering.
"Many companies are already labeling their products, including Campbell's, Pepsi, Mars, Dannon, General Mills, Kellogg's, Nestle and Post Foods. These companies have already done the work of determining which products have GMO ingredients, and have incurred the expense of changing product packaging to include the required words.  These companies have been extremely forward thinking in responding to consumer needs—nine out of ten consumers surveyed have said they would like this information on the package, " said Jean Halloran, Director of Food Policy Initiatives, for Consumers Union.
Halloran noted that, so far, Campbell's, Mars and Dannon have said affirmatively that they intend to continue labeling.  But sometime in the next two years USDA will indicate what kind of labels related to "bioengineering," USDA's preferred term, will be required nationally.   "We urge companies not to hide this information while waiting for USDA to create new rules," said Halloran.
Consumers Union has indicated that it is contacting the companies to ask them to retain their labeling policies, and is asking its activists to ask companies to label as well.  "Just as consumers want to know if foods are made from concentrate or are frozen, they want to know if they are genetically engineered.  Campbell's has led the way with straightforward disclosure.  We urge other companies to follow their lead," said Halloran.
***
Contact:  David Butler, dbutler@consumer.org or Kara Kelber, kara.kelber@consumer.org, 202-462-6262