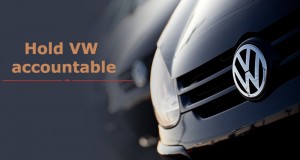 News Release
Friday, August 5, 2016
Consumers Union to Justice: Volkswagen settlement fair, but needs modifications
WASHINGTON, D.C.– Consumers Union, the policy and mobilization arm of Consumer Reports, today submitted formal comments to the U.S. Department of Justice about the proposed settlement between Volkswagen and federal and state regulators regarding the automaker's cheating on emissions standards in nearly 500,000 diesel vehicles. The public comment period on the settlement ends today.
In its comments, the nonprofit consumer organization said it generally supports the settlement as "fair, adequate, and reasonable," but urged regulators to consider several modifications before the agreement is finalized, including the following:
The group called for the settlement to be revised to allow consumers who receive an emissions fix to have a period of time to return a modified car if they are unsatisfied with how it operates.  This would give consumers a second chance to take the buyback or lease termination, and help VW get more consumers—especially reluctant ones—to participate in the recall by protecting them from being stuck with a car that has worse performance or fuel economy than it did before.
Under the settlement, 85 percent of affected vehicles must be removed from the road or have an approved emissions modification by

June 30, 2019

, a recall target that the consumer group said was "appropriately ambitious."  If VWfails to meet this target, it must pay substantial penalties. The consumer group asked the Justice Department to consider earlier, staggered targets to motivate VW to act quicker, instead of relying on a single deadline in 2019.  Having one deadline could lead to a backloaded recall process in which more unmodified VW and Audi diesels remain on the road for a longer period of time.
The organization noted that a consumer who sold a vehicle after September 18, 2015, and during the claims period can split the owner restitution payment approximately 50/50 with the new owner.  However, to qualify for this restitution payment, consumers were given only 45 days to identify themselves.  Since preliminary approval was granted by a federal court on July 26, these consumers must contact Volkswagen by

September 16

.  With the deadline rapidly approaching, it urged the parties and the court to extend the timeline for eligible sellers to identify themselves.
While the settlement's buyback and lease termination options are "entirely justified," CU wrote  they should be revised to increase buyback values and ensure that all consumers who leased their vehicles – including those who used a company other than the VW Credit service – do not incur any recall-related costs.
Consumers Union supports the settlement's requirement for Volkswagen to invest $2 billion in Zero Emission Vehicle (ZEV) technology and infrastructure, but cautioned against VW using loans, grants, or other incentives from federal or state agencies to carry out this ZEV investment.  It recommended that the consent decree be modified to clarify that any subsidies Volkswagen receives during this time period cannot be applied to its obligations under the settlement.
The comments are signed by Laura MacCleery, the vice president of consumer policy and mobilization for Consumer Reports, and William Wallace, policy analyst for Consumers Union.
For a copy of Consumers Union's formal comments, click here.
***
Contact: David Butler, dbutler@consumer.org, 202-462-6262