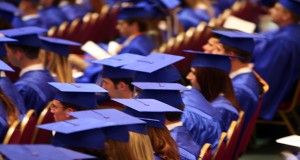 Monday, June 9, 2014
Consumers Union praises White House action to ease burden of student loan debt
WASHINGTON – President Obama today took actions to ease the burden of college loan debt for millions of Americans, including an executive order to expand the number of people who can take advantage of a law that lowers student loan payments to 10 percent of their monthly income.
The executive order will extend a 2010 law that created the 10 percent cap to help some 5 million Americans who are currently ineligible under the law — those who got loans before October 2007 or stopped borrowing by October 2011.
Consumers Union, the policy and advocacy arm of Consumer Reports, has long advocated for providing Americans more options and flexibility for repaying their student loans.
Pamela Banks, senior policy counsel for Consumers Union, is attending a White House briefing on student lending today.  Banks said, "The total amount of student loan debt in America today has grown to more than $1.2 trillion.  This isn't just a problem.  It's a crisis.  The president's action will provide more people some badly-needed help in tackling their student debts.  Graduation ought to be a time for students and families to celebrate and move forward, but this mountain of debt is holding too many of us back."
Suzanne Martindale, staff attorney for Consumers Union, said, "The average student in the class of 2014 is estimated to be graduating with some $33,000 in debt.  This pile of debt puts a crushing burden on students and hurts the economy.  Today's actions will provide more flexible repayment options for a larger number of people, which can help pull them out of the growing debt trap."
Last fall, Consumers Union issued the policy brief "Degrees of Debt," which highlighted recent research on the student loan debt crisis and stories from consumers struggling to finance college and pay off record-high debt.  The brief covers a wide variety of problems with student lending such as:
Misleading and confusing student loan offers
Lack of pre-loan counseling to review costs and eligibility
The challenges of refinancing or reducing monthly payments
Unfair fees and payment-processing issues
Trouble with loan servicers
Deceptive marketing and abusive collection practices
The CU policy brief "Degrees of Debt" is available online here.  For more information about student loans, visit the student-loan section of CU's site Defend Your Dollars.
***
Contact: David Butler, dbutler@consumer.org, or Kara Kelber, kkelber@consumer.org, 202-462-6262