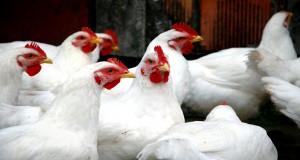 Wednesday, January 18, 2017
WASHINGTON, D.C. — Consumers Union, the policy and mobilization arm of Consumer Reports, today praised the U.S. Department of Agriculture's new rule for its organic label. The new rule ensures that animals used to produce organic meat, poultry, dairy and eggs are raised on farms with high standards for animal welfare, including specific requirements for providing outdoor space.  Because the regulations are coming out in the final 60 days of the Obama Administration, however, they are subject to a review by Congress, which could ultimately roll them back.
"This new rule means that the organic label will be much more in line with consumer expectations," said Charlotte Vallaeys, Senior Policy Analyst at Consumer Reports.  "A vast majority of American shoppers say that they care about providing better living conditions for farm animals, and more than two-thirds of consumers of all political stripes think that animals raised on organic farms should be able to go outdoors. Outdoor access has always been a requirement for organic farms, but with the new rule, it will no longer be possible for factory farms to claim that their tiny concrete porches qualify as the outdoors."
Under these new rules, there will be minimum outdoor space requirements for chickens, and each laying hen will have approximately 2 square feet of outdoor space, half of which will be soil. Previously their outdoor space could consist of small, concrete porches attached to a multi-story building that essentially confined the birds indoors. The new rule also strengthens animal welfare requirements on organic farms in other ways, such as by prohibiting routine tail docking of pigs, setting a maximum limit for ammonia caused by the buildup of manure, and more.
Jean Halloran, Director of Food Policy Initiatives for Consumers Union, said, "The overwhelming majority of consumers believe that the organic label represents extremely high standards and this rule finally meets those standards for animal welfare. We therefore urge lawmakers not to interfere with this rule. Congress should not give special treatment to livestock companies who might want to charge higher prices for organic meat, poultry, dairy and eggs without having to actually produce those foods the way consumers expect."