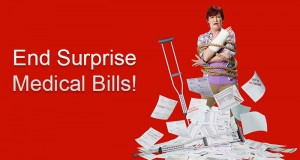 October 21, 2015
WASHINGTON, DC – Consumers Union, the policy and advocacy arm of Consumer Reports, today praised the introduction of the End Surprise Billing Act of 2015 requiring hospitals to give consumers advance notice if they might be charged out-of-network fees. The legislation, introduced by Congressman Lloyd Doggett (D-Texas), would require advanced patient consent before being treated by someone not on their insurance plan. If such consent is not possible—if, for example, the patient is experiencing a medical emergency—they would still only pay what they would have paid for the same covered benefits received from a health professional on their insurance plan.
"The unfortunate fact is that thousands of consumers across the country are hit with surprise medical bills, even when they've done their due diligence to find hospitals and doctors covered by their insurance plans. But as it stands now, there is no guarantee that when you go to an 'in-network' hospital or medical facility, you'll actually pay in-network prices," said Blake Hutson, Interim Director of Health Reform for Consumers Union. "Consumers shouldn't be the losers in the billing tug-of-war between doctors and insurers. This legislation is an important step in taking the 'surprise' out of surprise medical bills and ensuring that consumers aren't on the hook for unexpected charges, especially in emergency situations. We look forward to working with Congressman Doggett to move this common sense, pro-consumer legislation forward."
A 2015 national survey of 2,200 adult U.S. residents by the Consumer Reports National Research Center found that nearly one third of privately insured Americans received a surprise medical bill where their health plan paid less than expected in the past two years. Among those respondents, nearly one out of four got a bill from a doctor they did not expect to get a bill from.
After hearing from thousands of consumers who had been hit with surprise medical bills, Consumers Union recently launched the End Surprise Medical Bills campaign to help put an end to these unfair bills for good. Consumers can visit EndSurpriseMedicalBills.org to share their surprise medical bill story, sign our national petition, or use our Insurance Complaint Tool for state-specific assistance, resources and information.
Consumers Union is also working in several states, including California, Texas, New Jersey and Pennsylvania, to pass legislation to strengthen protections against surprise medical bills. The group was a strong proponent of the New York law, which went into effect April 1, banning balance billing in emergency medical situations.
***
Contact: David Butler, dbutler@consumer.org or Kara Kelber, kara.kelber@consumer.org, 202-462-6262
Consumers Union is the public policy and advocacy division of Consumer Reports. Consumers Union works for health reform, food and product safety, financial reform, and other consumer issues in Washington, D.C., the states, and in the marketplace. Consumer Reports is the world's largest independent product-testing organization. Using its more than 50 labs, auto test center, and survey research center, the nonprofit rates thousands of products and services annually. Founded in 1936, Consumer Reports has over 8 million subscribers to its magazine, website, and other publications.