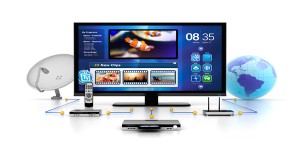 Thursday, February 18, 2016
WASHINGTON, D.C. — The Federal Communications Commission today voted 3-2 in favor of a proposal to consider rules that would promote greater competition in the TV set-top box market.
The proposal is the first step in creating a framework that would require pay-TV providers to allow consumers to use third-party devices and apps to get the programming they pay for, instead of being locked into leasing a set-top box from the pay-TV provider. Today's vote starts the process of seeking public comment on possible rules.
Consumers Union, the advocacy arm of Consumer Reports, has pressed the FCC to open up the set-top box market so consumers have more choices and better options.
Following today's vote, Consumers Union issued this statement:
"For too long, pay-TV customers have had to shell out money month after month to lease these boxes, on top of the ever-increasing price of service.  It's time to untether the consumer from that clunky, old box.  This vote is an important step toward tearing down barriers that have limited competition and innovation in this market.  We will keep working with the FCC to help develop a strong, practical set of standards that will better serve consumers."
***
Contact: David Butler, dbutler@consumer.org, or Kara Kelber,kara.kelber@consumer.org, 202-462-6262