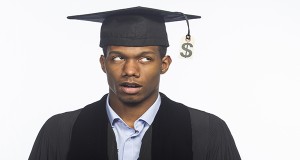 January 29, 2016
DOE Sends Cease & Desist Letters to Debt Relief Companies for Misleading Marketing
WASHINGTON, D.C. —  Consumers Union, the policy and advocacy division of Consumer Reports, applauded the Department of Education for taking action today against a pair of debt relief companies for violating federal law by featuring the DOE's logo in their marketing materials to convey the false impression that they represented the agency.  The DOE sent cease and desist letters to Perfect Privacy, LLC, of Georgia, for its SL Programs Student Loan and Debt Consolidation Programs (SL Programs); and The Student Loan Project located in California.
"Millions of Americans are struggling to manage their education debt and are vulnerable to being ripped off by shady debt relief companies charging exorbitant fees," said Suzanne Martindale, staff attorney for Consumers Union.  "But there's no reason to pay for the kind of services being peddled by these companies when you can get assistance for free.  We're encouraged that the Department is cracking down on these misleading marketing schemes and hope they will continue to aggressively enforce the law to stop debt relief scams."
Borrowers can learn more about the free debt relief services currently available on the Department of Education's website, including options for lowering monthly payments, consolidating loans, loan forgiveness, and getting out of default.
###
Contact:  Michael McCauley, mmccauley@consumer.org, 415-431-6747, ext 7606 (office) or 415-902-9537 (cell)