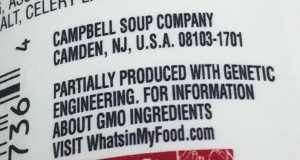 For Immediate Release: Thursday, June 23, 2016
WASHINGTON, D.C. – Today, Senate Agriculture Committee Chairman Pat Roberts (R-KS) and Ranking Member Debbie Stabenow (D-MI) announced a deal on legislation related to genetically engineered ingredients, or GMOs. The new bill would nullify state laws requiring clear, on-package labeling of food with GMOs and replace them with an ineffective national standard to be set two years from now by the U.S. Department of Agriculture (USDA).
Jean Halloran, director of food policy initiatives for Consumers Union, the policy and advocacy division of Consumer Reports, issued this statement in response:
"This deal is unacceptable to the nine out of ten Americans who support mandatory GMO labeling. Consumers deserve to know what's in their food and to be able to make informed decisions. They have been clear that they want straightforward GMO labels that they can read and understand at a quick glance when shopping. This law would instead allow GMO disclosure to be done through scannable codes, phone numbers, or websites – making it difficult, if not impossible for the average consumer to find out what they want to know as they try to decide which kind of cereal or snack to buy.
"While we appreciate efforts by Senator Stabenow and others to seek a better bill than the one passed by the House last summer, this deal does not meet consumer needs. QR codes, 1-800 numbers, or websites aren't a solution. The new Senate bill is just another way to allow companies to keep consumers in the dark – especially the one-third of Americans who don't own a smartphone and those in rural areas without reliable broadband service.
Michael Hansen, Ph.D., Senior Scientist at Consumers Union, added: "The bill's requirements, limited though they may be, do not even apply to many forms of genetically engineered food. The bill is designed to cover only food produced with traditional forms of genetic engineering, and leaves out emerging techniques like 'gene editing,' which was recently used to create a mushroom that doesn't get brown. The bill also completely exempts any food where meat is the main ingredient, even if there are other ingredients that are genetically engineered."
Halloran also said: "The Senate shouldn't fall for food and biotech industry scare tactics. They claim that Vermont's law will cause 'chaos' and lead to higher food prices. But the fact is that food companies have already started labeling – we've received photos of labeled GMO products from consumers across the country. The sky has not fallen, and in general, prices have not risen on GMO foods.
"If this bill is passed by the Senate, it would be a clear case of Congress acting on behalf of industry interests, rather than on those of their constituents. We urge all senators to stand up for consumers – and real disclosure – and oppose this bill."
Consumers Union is urging consumers to call on their lawmakers to oppose congressional action that would undermine state GMO labeling laws, and to support meaningful, mandatory on-package labeling for GMO foods, including engineered animals like salmon and engineered produce and processed food. To learn more, visit ConsumersUnion.org.
***
Contact:    David Butler, 202-462-6262