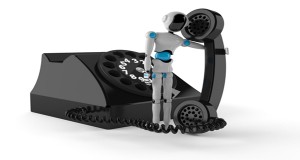 Campaign Demands Telephone Companies Offer Free,
Effective Call-Blocking Solutions to Customers
SAN FRANCISCO, CA – Consumers Union, the policy and advocacy arm of Consumer Reports, launched a new campaign today to help consumers stop unwanted and illegal robocalls. The campaign is calling on the top telephone companies to offer customers free tools that effectively block robocalls from going through.
"Americans are sick and tired of robocallers that invade their homes and try to rip them off with predatory scams," said Christina Tetreault, staff attorney for Consumers Union. "It's time for phone companies to stop dragging their feet and empower consumers to put an end to unwanted robocalls."
Consumers Union has long pushed phone carriers to take action to stop robocalls.
But now the organization is mobilizing tens of thousands of fed up consumers across the country to demand that Verizon, Century Link, and AT&T give customers the choice to use call-blocking technologies to stop unwanted robocalls. Consumers can find out more and join the campaign at endrobocalls.org. So far, over 75,000 people have signed the petition urging the phone carriers to give customers that choice.
Robocalls are unsolicited pre-recorded or live phone calls made using a computerized auto-dialer. Americans have registered more than 217 million phone numbers on the Federal Trade Commission's "Do Not Call" list, yet robocalls are rampant. Last year, the Federal Trade Commission received 3 million complaints from the public about unwanted robocalls, many from scammers or illegitimate companies that flagrantly violate the law. Telephone scammers target the elderly and other vulnerable consumers, resulting in an estimated $350 million in financial losses in 2011.
These fraudulent schemes include the "IRS scam," in which the caller claims to be from the Internal Revenue Service and demands money for unpaid taxes. The IRS reports that about 1,100 consumers have fallen victim to this crime, losing some $5 million. Other scams include "Rachel from Cardholder Services," a recorded message that promises to lower your credit card interest rates, the Microsoft computer scam, and phony medical alert offers.
Technology is already available to stop robocalls before they reach a consumer's landline, but few have access to these tools because the phone companies have resisted making them widely available in the U.S. Some of these technologies work by intercepting telemarketing calls and providing consumers with the choice to send callers to voicemail, answer or block a call, hang up, or identify certain callers or categories of callers to be blocked in the future. Other technologies use a "whitelist" to develop a trusted list of numbers that go through and ask other callers to say their names before the consumer's phone rings. Consumers in countries where these technologies are available have reported a significant drop in unwanted calls.
In recent years, US Telecom, the trade association representing phone carriers, has claimed that they do not have the legal authority to block all robocalls. However, some phone carriers have conceded that the law does not prohibit them from blocking robocalls if a consumer requests that they do so.
In January, Consumers Union filed comments with the Federal Communications Commission detailing how current law already allows phone companies to give consumers the choice to stop robocalls with call-blocking technologies, a position that is shared by the Federal Trade Commission. Consumers Union's January filing included more than 50,000 comments gathered from consumers urging the FCC to make that clear.
"We've heard from thousands of consumers across the country frustrated by the daily onslaught of robocalls that interrupt their lives and target them with fraudulent scams," said Tetreault. "Phone companies need to step up and provide their customers with relief. Consumers should be given the option of using call-blocking technologies to end unwanted robocalls."
Consumers Union can connect reporters with consumers frustrated with being harassed by robocalls. For more information, contact mmccauley at consumer.org