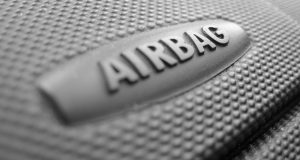 Consumer Reports' advocacy division urges Ford, Mazda to take greater responsibility for safety, quickly fix more than 17,000 unrepaired pickup trucks with deadly Takata airbags
WASHINGTON, D.C. (May 7, 2018) — Consumers Union, the advocacy division of Consumer Reports, today alerted consumers of an important "do not drive" warning from the federal government on model year 2006 Ford Rangers and Mazda B-Series trucks with defective Takata airbags. When these defective airbags fail, they can explode with excessive force, sending shrapnel toward the head, neck, and chest of occupants. Fifteen people have died in the United States and six more have died abroad due to the defective airbags. In response to low completion rates regarding this defect, the National Highway Traffic Safety Administration (NHTSA) has now issued a second warning for consumers to immediately schedule a free repair.
David Friedman, Director of Cars and Product Policy and Analysis for Consumers Union, said, "If you drive one of these pickup trucks and it hasn't been fixed yet, you are putting yourself and your loved ones at severe risk. Please heed this warning. Get your truck fixed as quickly as possible, and stop driving it until it is repaired.
"At the same time, Ford and Mazda must take greater responsibility for reaching out to customers at risk from defective airbags in the cars they made. Ford and Mazda should be proactive and prioritize the safety of their customers. If they need to go door-to-door fixing the trucks to prevent a tragedy, that's exactly what they should do. These companies should also offer free loaner cars so that consumers can have their vehicles fixed without unnecessary inconvenience.
"The other car company with very high risk airbags, Honda, has a recall completion rate approaching 75 percent. It is unacceptable that fewer than half of the affected Ford Rangers and only 58 percent of Mazda B-Series trucks have been fixed.
"NHTSA should make clear to Ford and Mazda that more must be done to mitigate the deadly risk posed by these vehicles. NHTSA should investigate why the completion rates are so low, and fine the companies for any potential violations of the coordinated remedy order."
***
Contact: David Butler, dbutler@consumer.org, 202-462-6262, ext. 7416
Consumer Reports is the world's largest independent product-testing organization. Using its more than 50 labs, auto test center, and survey research center, the nonprofit rates thousands of products and services annually. Consumers Union works for health reform, food and product safety, financial reform, and other consumer issues in Washington, D.C., the states, and in the marketplace.