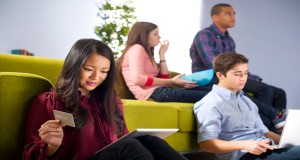 Friday, May 15, 2015
Consumers Union: Department of Education proposes strong rules for campus banking products
WASHINGTON, D.C. – Consumers Union, the policy and advocacy arm of Consumer Reports, today praised the U.S. Department of Education's proposed rules for agreements between colleges and companies that offer campus banking and prepaid accounts.
College students are increasingly offered these campus banking products through school-bank partnerships.  Many students get their Title IV credit balances, the money refunded to them after tuition and fees are paid to the school, through these products.
Consumers Union and others have raised serious concerns about excessive fees associated with these products, as well as aggressive marketing practices and limited transparency about the partnerships.  Today's proposed rules would help ensure students can freely choose how they access their federal student aid funds, and they would prohibit harmful fees, such as point of sale and overdraft fees, on accounts offered during the financial aid disbursement process.
The Department of Education said the rules would prohibit institutions from requiring students or parents to open a certain account into which their credit balances are deposited.  Institutions would have to ensure students have reasonable access to surcharge-free ATMs.  Institutions would be required to provide a list of account options that a student may choose from to receive credit balance funds, where each option is presented in a neutral manner and the student's preexisting bank account is listed as the first, most prominent, and default option.  Schools would also have to make their campus banking contracts public.
Suzanne Martindale, staff attorney for Consumers Union, said, "These rules will help provide greater accountability that has been lacking for too long around these school-bank partnerships.  We applaud this strong first step by the Department, and urge them to protect all students from being steered into accounts with harmful fees that eat into their precious financial aid dollars."
Pamela Banks, senior policy counsel for Consumers Union said, "Too often, these agreements have led students to products with unusual fees and restricted choices for managing their money.  These rules would raise standards to curb fees, and they would provide students and families with the tools they need to make informed decisions about their financial aid."
In 2014 Consumers Union issued a report on campus banking products that examined fees, poor disclosures, and other problems with these school-bank partnerships.
***
Contact: David Butler, dbutler@consumer.org, or Kara Kelber, kkelber@consumer.org, 202-462-6262