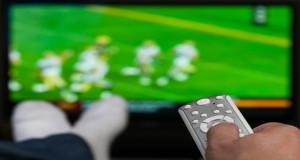 Tuesday, September 30, 2014
Consumers Union cheers FCC vote to bench the sports TV blackout rule
WASHINGTON — Consumers Union, the advocacy arm of Consumer Reports, today praised the Federal Communication Commission's vote to eliminate its long-standing rule on sports TV blackouts, dating back to 1975.
Delara Derakhshani, policy counsel for Consumers Union, said, "This rule was as outdated as a wood-paneled TV set on a lime-green shag carpet.  Blackouts are anti-consumer and anti-fan, and we're glad the FCC decided to blow the whistle on the old rule.  This doesn't get rid of blackouts completely, but today's vote is a very important move that's good news for fans.  The NFL tried to put up a last-minute defense as the clock ticked down, and we're happy the FCC voted to bench the rule."
For years, sports fans have griped about TV blackouts of local games. The National Football League and other sports leagues have policies that can stop you from seeing your home team play on your local TV station if the stadium fails to sell most or all tickets before the game. In 1975 the FCC set a rule that said cable companies could not carry games that had been blacked out locally, and that rule was eventually extended to satellite TV. The FCC rule applied to a variety of sports, but the NFL has stood out as an outspoken defender of the policy, and it lobbied aggressively against the FCC's proposal to sack the rule.
The original argument for blackouts was the leagues and teams got most of their revenue from ticket sales, and not enough fans would buy tickets for games that aired on TV.  But the sports business has changed dramatically in the last four decades. Leagues have found a multitude of ways to generate revenue beyond ticket sales, and as the justification for the FCC's rule faded, commissioners proposed getting rid of it.
Today's FCC vote against the rule was unanimous, 5-0.  The removal of the rule will not wipe out blackouts entirely, but CU and other groups plan to keep pressing to eliminate them once and for all.  CU-endorsed legislation introduced by Sens. John McCain (R-Ariz.) and Richard Blumenthal (D-Ct.) would crack down on blackouts in several ways, including provisions to ensure that games are not blacked out as a result of contractual disputes, encourage making local games available online, and eliminates antitrust exemptions for leagues to collectively negotiate deals to air games if their contracts include blackout provisions.
***
Contact: David Butler, 202-462-6262, dbutler@consumer.org