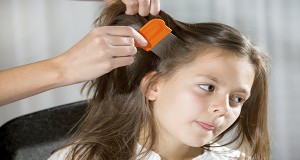 Wednesday, September 2, 2015
Consumers Union Calls on FDA to Ban Lindane for Head Lice Treatment
WASHINGTON, DC – Consumers Union, the policy and advocacy division of Consumer Reports, today called on the FDA to ban any human topical uses of lindane. The chemical – allowed by prescription for treatment of lice, their eggs, and scabies – was recently designated a known human carcinogen by the WHO International Agency for Research on Cancer (IARC). In a letter to the FDA today, the consumer group also highlighted the fact that there are safer, more effective treatments on the market. Consumers Union informed the FDA that it would be filing a formal citizen petition to the agency on the issue.
Consumers Union has raised concerns about the use of lindane for over 30 years, and Consumer Reports has advised parents to skip chemical products when treating lice.
"Lindane is a very hazardous pesticide known to cause serious human health effects. The fact that the vast majority of cases of head lice occur in school-age children makes us even more concerned about the long-term health effects of treating children with lindane," said Michael Hansen PhD, Senior Scientist with Consumers Union. "Even after being named a human carcinogen, lindane remains on the market for topical treatment when safer, more effective alternatives are available. Given the proven risks lindane poses to consumers, we urge the FDA to look at this issue again and ban any human topical uses of lindane."
Reports to FDA's adverse events effect database have included 17 deaths, of which three have been confirmed Reported neurological effects include seizure, dizziness, and headache. In 2014, there were 37,760 prescriptions issued in the U.S. for lindane, with 23,083 prescriptions for scabies and 14,677 for lice.
For a copy of the letter, click here or contact David Butler or Kara Kelber.
***
Contact:  David Butler, dbutler@consumer.org or Kara Kelber, kara.kelber@consumer.org, 202-462-6262