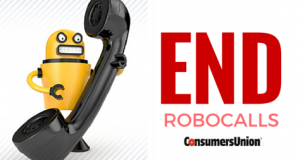 For Immediate Release:  Friday, July 22, 2016
FCC Chairman Wheeler Calls on Phone Companies to Provide Free Robocall Blocking Tools to Customers
Consumers Union Applauds Wheeler and Urges Phone Companies to Take Action
WASHINGTON, D.C. –  In  letters sent on Thursday, Federal Communications Commission Chairman Tom Wheeler urged the nation's top phone companies to provide their customers with free tools to block unwanted robocalls and has given them 30 days to respond with a plan for doing so.  Robocalls have become rampant in recent years and are the top consumer complaint reported to the FCC.
Wheeler's action was applauded by Consumers Union, the policy and advocacy division of Consumer Reports, which launched its End Robocalls campaign last year calling on the phone companies to take action.  Over 600,000 people have signed Consumers Union's petition urging AT&T, CenturyLink, and Verizon to offer their customers free robocall-blocking tools.
"Consumers are tired of being hounded by robocalls that interrupt their privacy and are often used by crooks to commit fraud," said Tim Marvin, who heads up Consumers Union's End Robocalls campaign.  "The phone companies need to start listening to their customers who are desperate for relief. The time for action is long overdue."
FCC Chairman Wheeler sent letters to AT&T, Bandwidth.com, CenturyLink, Frontier Communications, Level 3 Communications, Sprint, T-Mobile, US Cellular, and Verizon.
For years, the phone companies argued that they were prevented from blocking robocalls because they were legally obligated to make sure all calls reached the intended recipient.  AT&T CEO Randall Stephenson repeated that excuse in an interview just last month with the Dallas Morning News.  But last year, the Federal Communications Commission made it clear that phone companies have the legal authority to block unwanted calls.
In his letters to the phone companies, Wheeler reiterated that point.  "Nothing in the Commission's rules and orders prevents [phone companies] from offering customers robocall blocking technology," Wheeler writes.  "I strongly urge you to offer your customers robust call blocking at no cost."
Robocalls are more than just a nuisance.  They can cost consumers real money when they are used to commit fraud.  Too often, that's the case.  Telephone scammers use robocalls to rip off seniors and other vulnerable consumers, resulting in an estimated $350 million in financial losses every year.
Last year, the Federal Trade Commission (FTC) received over 3.5 million complaints from consumers fed up with unwanted calls.  Almost half of these calls occurred after the consumer requested that the caller stop contacting them.  Robocalls have become so rampant that complaints about violations of the Do Not Call registry doubled between 2010 and 2015.
Consumers Union issued a report in 2015 that identified a number of existing technologies that phone companies could use to block unwanted robocalls from reaching their customers.
###
Contact:  Michael McCauley, mmccauley@consumer.org or 415-431-6747, ext 7606 (office) or 415-902-9537 (cell) or David Butler, dbutler@consumer.org, 202-462-6262