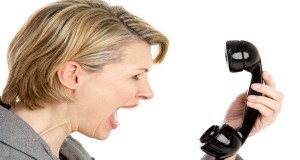 March 25, 2015
Consumers to FCC: No Robocalls to Cellphones
Consumers Union delivers 130,000 petition signatures to FCC as telemarketers, financial companies seek loopholes to allow intrusive robocalls to cellphones
WASHINGTON, D.C. — Consumers Union, the advocacy arm of Consumer Reports, today delivered nearly 130,000 petition signatures from consumers to the Federal Communications Commission with a simple message: Don't allow robocalls to my cellphone without my consent.
This is the latest in a series of petitions submitted to the FCC in support of the Telephone Consumer Protection Act (TCPA) and the FCC rules implementing that law, which prohibit all non-emergency robocalls to cell phones unless the consumer has explicitly given their consent.  Some telemarketing and financial service companies are lobbying the FCC to allow so-called "wrong party" robocalls to cellphones.  This would subject consumers to intrusive calls if the company obtains a number previously owned by someone else, or if a debt collector associates a number with the wrong person.
A coalition of national and state consumer groups led by National Consumer Law Center and the National Association of Consumer Advocates submitted 60,000 signatures to the FCC last month.  CU's submission today of 129,366 petition signatures brings the total to nearly 190,000.
Delara Derakhshani, policy counsel for Consumers Union, said, "Companies shouldn't be allowed to make robocalls to your cellphone without your consent.  But some companies are pushing for loopholes that would open your cellphone to telemarketing pitches, and would limit the companies' liability for making these harassing calls. Instead of weakening the protections in place, companies should be working harder to ensure that calls are made only when the consumer has explicitly agreed to receive these calls. That's why so many consumer groups across the country are calling on the FCC to reject this effort by industry, and preserve our right to say 'no' to robocalls to cellphones."
Consumers Union is also working to pressure the top phone companies to offer free, effective call blocking tools to stop unwanted and illegal robocalls.  To learn more about Consumers Union's campaigns to help people fend off unwanted robocalls, visit EndRobocalls.org
Note to reporters: Consumers Union can connect you with consumers who have personal stories about the frustrations and harassment of robocalls.
***
Media contact: David Butler, dbutler@consumer.org, 202-462-6262, or Michael McCauley, 415-431-6747, mmccauley@consumer.org