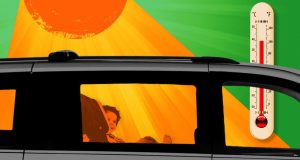 Rear seat child detection and alert systems will save lives, should be required on all new cars, says Consumer Reports.
WASHINGTON, D.C. — Consumer Reports called on lawmakers in Congress today to support the Hot Cars Act of 2019, bipartisan legislation recently introduced in both the House and Senate that would require all new passenger vehicles in the U.S. to come with standard equipment designed to help prevent child deaths from heatstroke suffered in motor vehicles. Twenty-one children already have died from heatstroke in cars since just the start of 2019, and more than 800 children have died from this preventable tragedy since 1990. On average, a child dies from vehicular heatstroke once every ten days.
The Senate bill would require vehicles to come equipped with a system that prompts drivers to check rear seats after the car's engine or motor is turned off, while the House bill would require vehicles to have a system that alerts drivers when a child is detected in a rear seat after the car's engine or motor is turned off.
Emily Thomas, Ph.D., Automotive Safety Engineer for Consumer Reports, said, "Sadly, all parents and caregivers are at risk of losing a child to the unthinkable tragedy of forgetting them in the backseat. Research shows that it is a flaw in the way our memory systems work. Especially when there is a change in routine, we go on autopilot and need help jogging our memory. While it is at its worst in the summertime, CR testing has found that vehicular heatstroke is a year-round threat."
As part of its child safety efforts, CR has been evaluating currently available rear seat alert systems and informing consumers about them. The organization also has pushed previously for Congress to require these systems to be standard in all new cars.
Ethan Douglas, Senior Policy Analyst for Consumer Reports, said, "The good news is that the technology to prevent these tragedies is available. That's why we strongly urge Congress to pass the Hot Cars Act of 2019 without delay, to provide parents with a simple, integrated, and reliable way to help prevent forgetting their child in the back seat when they get out of the car."
Media contact: Adam Winer, adam.winer@consumer.org, 202-462-6262
###
Consumer Reports is an independent, nonprofit membership organization that works side by side with consumers to create a fairer, safer, and healthier world. For 80 years, CR has provided evidence-based product testing and ratings, rigorous research, hard-hitting investigative journalism, public education, and steadfast policy action on behalf of consumers' interests. Unconstrained by advertising or other commercial influences, CR has exposed landmark public health and safety issues and strives to be a catalyst for pro-consumer changes in the marketplace. From championing responsible auto safety standards, to winning food and water protections, to enhancing healthcare quality, to fighting back against predatory lenders in the financial markets, Consumer Reports has always been on the front lines, raising the voices of consumers.