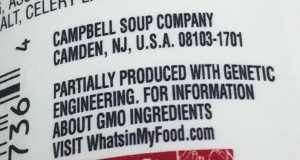 News Release
Consumers Union – Food & Water Watch
Tuesday, June 21, 2016
WASHINGTON, D.C. – Consumers Union, the policy and advocacy division of Consumer Reports, and Food & Water Watch today delivered packages of  products labeled as genetically engineered (GE) — purchased locally — to Senators urging them to stand up for mandatory, on-package GE (also known as GMO) labeling.
The groups said, "Huge food and biotech companies are pressuring Congress to preempt Vermont's GE food labeling law to avoid 'chaos' in the marketplace. But the truth is that GMO labeling is here right in Congress' backyard. Companies have already started labeling nationwide and we haven't seen higher prices. We urge the Senate to stand up for what more than 90 percent of their constituents want and support GMO labeling in the marketplace."
The products delivered to 25 key Senators included the message:
GE Labeling is Already Here! Don't Stop It Now
As you can see by these snacks, food companies are already labeling their products that contain genetically engineered ingredients. On-package labels are simple, straightforward and they're what consumers want. We urge you to preserve GE food labeling in the marketplace!
Consumers Union is urging consumers to call on their lawmakers to oppose bills that would undermine state GMO labeling laws, and to support meaningful, mandatory on-package labeling for GMO foods, including engineered animals like salmon and engineered crops like corn and soy, and processed food. To learn more, visit ConsumersUnion.org/RightToKnow.
***
Contact:
Consumers Union: Kara Kelber, kara.kelber@consumer.org, (202) 462-6262
Food & Water Watch: Kate Fried, kfried@fwwatch.org, (202) 683-4905
Consumers Union is the public policy and advocacy division of Consumer Reports.  Consumers Union works for health reform, food and product safety, financial reform, and other consumer issues in Washington, D.C., the states, and in the marketplace. Consumer Reports is the world's largest independent product-testing organization.  Using its more than 50 labs, auto test center, and survey research center, the nonprofit rates thousands of products and services annually.  Founded in 1936, Consumer Reports has over 8 million subscribers to its magazine, website, and other publications.
Food & Water Watch champions healthy food and clean water for all. We stand up to corporations that put profits before people, and advocate for a democracy that improves people's lives and protects our environment.