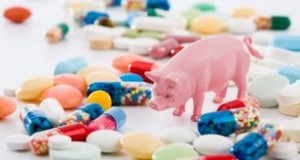 SAN FRANCISCO (June 23, 2015) — A letter signed by nearly 60 public interest, medical, public health, environmental and animal welfare organizations was delivered to Subway Founder and CEO Fred DeLuca and Senior VP Suzanne Greco today, asking the restaurant giant to phase out meats produced with routine use of antibiotics (i.e. for growth promotion and disease prevention). As the largest fast-food chains in the world, Subway's action on this issue would help tackle the growing health crisis of antibiotic resistance.
This letter was sent on the heels of a private note recently mailed to DeLuca by a subset of these groups, including Consumers Union, the Natural Resources Defense Council (NRDC), U.S. PIRG, Friends of the Earth,  Food Animals Concern Trust, and Center for Food Safety, asking to discuss the antibiotics use issue. Subway has not responded to that first communication.
"People are becoming increasingly aware of the health threat posed by the growing antibiotic resistance crisis. Companies like Subway have a critical role to play in safeguarding the effectiveness of tomorrow's antibiotics by pushing their meat suppliers to end routine use of these drugs today," said Lena Brook, food policy advocate with the NRDC. "Switching to meat and poultry raised without the routine use of antibiotics would be great news not only for Subway customers, but also anyone else who might need an antibiotic someday."
While Subway is currently testing in Southern California a sandwich using chicken raised without antibiotics, the company has no further public commitment to offer regarding poultry and meat produced without the routine use of antibiotics across its U.S. stores. If Subway, the world's largest fast food chain, required its suppliers to stop raising meat with routine antibiotics use, it would help build broader industry pressure on meat and poultry producers to reform their production practices.
In recent months, a host of major buyers and poultry producers including Perdue, McDonald's, and Tyson Foods – the largest chicken producer in the United States – have committed to buying or producing chicken  without the routine use of medically-important antibiotics. Chick-fil-A has made a commitment to only purchase chicken raised without antibiotics within five years. Subway competitor Panera Bread has provided customers with meat and poultry from animals raised without antibiotics for years.
"As a company that prides itself on being a healthy fast food option, Subway should stake out a leadership position by serving meat not raised on antibiotics," said Steve Blackledge, public health program director for U.S. PIRG. "McDonald's, Panera Bread, Chick-fil-A, and many other chains have responded to growing consumer demand or have been moved by the urgency of saving antibiotics. We need Subway to do the same."
Background on antibiotics overuse on industrial farms:
Due to misuse and overuse, leading medical experts warn that antibiotics could stop working – with grave consequences for public health. According to the Centers for Disease Control and Prevention, each year at least two million Americans become infected with bacteria that are resistant to antibiotics and at least 23,000 people die as a direct result of these infections. Despite this threat to public health, up to 70 percent of medically-important antibiotics sold in the United States are for use on livestock and poultry. Many large industrial farms routinely give antibiotics to animals that are not sick to speed up growth and preventively to compensate for poor diets and stressful, crowded and often unsanitary confinement conditions.
For more information:
Contact:  Kara Kelber, kkelber@consumer.org, 202-462-6262