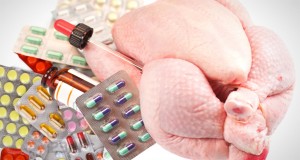 May 8, 2013
Consumers Union Applauds Senate Bill to Boost Data on Use of Antibiotics in Meat
WASHINGTON, DC – A bipartisan group of Senators today introduced new legislation that would take a closer look at the use of drugs in food-producing animals and help to improve the ability of the Food and Drug Administration (FDA) to study the use of antimicrobial drugs in food-producing animals.
Consumers Union, the policy arm of Consumer Reports, praised the legislation that will make more data available to help in better understanding where and how antibiotics are being used in our food supply.
"The routine use of antibiotics in food animals can result in the proliferation of drug-resistant 'super bugs' which pose a serious public health threat," said Ami Gadhia, senior policy counsel for Consumers Union. "This type of information will help us understand how antibiotics are being used in food animal production.  Without it, we can't have an informed public or scientific dialogue."
The Antimicrobial Data Collection Act, introduced by Senators Kirsten Gillibrand (D-NY), Dianne Feinstein (D-CA) and Susan Collins (R-ME), would develop a pilot program to study the relationship between the sales, distribution, end-use practices of animal drugs containing an antimicrobial active ingredient in food-producing animals and antimicrobial resistance trends.
Gadhia said, "Consumers Union applauds your leadership on this issue, and we look forward to working with you to move this legislation forward."
Last year, Consumers Union launched the Meat Without Drugs campaign, which is calling on the Trader Joe's grocery store chain to only sell meat from animals not routinely raised with antibiotics. More information on the group's Meat Without Drugs campaign is available at www.NotInMyFood.org.
Consumer Reports recently released the findings of its first-ever tests on more than 250 samples of ground turkey bought at retail stores nationwide. The tests found potential disease-causing organisms in most of the samples tested, many of which proved resistant to more than three antibiotic drug classes. However, the bacteria on those ground turkey products labeled "no antibiotics," "organic," or "raised without antibiotics" were resistant to fewer antibiotics than bacteria found on conventional products. The complete report and analysis can be found in the June 2013 issue of Consumer Reports and online at www.ConsumerReports.org.
###