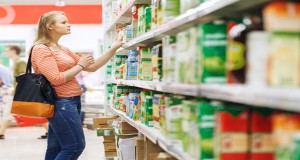 Wednesday, March 2, 2016
Consumers Union on Merkley GMO Bill: This is What Real Disclosure Looks Like
WASHINGTON, D.C. – Consumers Union, the policy and advocacy arm of Consumer Reports, today praised the introduction of the Biotechnology Food Labeling Uniformity Act. The legislation, sponsored by Senator Jeff Merkley (D-Ore.), would create a national standard for GMO labeling and require food manufacturers to label products with GMO ingredients via one of several options on the ingredients list section of the Nutrition Facts Panel.  Another option would give FDA the authority to develop a symbol, in consultation with food manufacturers, which would disclose the presence of GM ingredients on packaging.
Jean Halloran, director of food policy initiatives for Consumers Union, said, "This is what real disclosure looks like. This bill finds a way to set a national standard and avoid a patchwork of state labeling laws while still giving consumers the information they want and deserve about what's in their food. This compromise offers food companies different labeling options and ensures that all consumers – no matter where they are in the country or whether they own a smartphone – have the information they overwhelmingly say they want. We urge Senators to support this proposal as they move forward on GMO labeling legislation."
Merkley's bill comes the day after the Senate Agriculture Committee voted to move forward an anti-consumer bill that would preempt state GMO labeling laws and direct USDA to develop duplicative standards for voluntary labeling and promote biotechnology. The legislation, which is supported by biotech giants and some of the country's largest food companies, is the latest attempt to block a Vermont law requiring labeling on the package of genetically engineered food sold in the state before it goes in to effect July 1.
Consumers Union is urging consumers to call on their lawmakers to oppose preemption of state GMO labeling laws, and to support meaningful, mandatory on-package labeling for GMO foods, including engineered animals like salmon and engineered produce and processed food. To learn more, visit ConsumersUnion.org/RightToKnow.
 ***
Contact:  David Butler, dbutler@consumer.org or Kara Kelber, kara.kelber@consumer.org, 202-462-6262