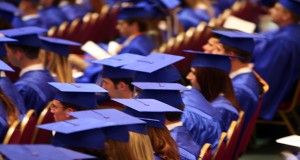 Tuesday, September 16, 2014
Consumer Financial Protection Bureau cracks down on for-profit Corinthian Colleges for alleged "predatory lending scheme"
WASHINGTON – Consumers Union, the advocacy arm of Consumer Reports, today praised the Consumer Financial Protection Bureau for its tough action against the for-profit college chain Corinthian Colleges, Inc.  The CFPB today filed a lawsuit against Corinthian for a "predatory lending scheme" in which the company allegedly lured students into private loans to cover expensive tuition bills by promoting bogus job prospects, then used illegal tactics to collect their debts.  The bureau is asking the court to grant relief to the students that have collectively taken out more than $500 million in private student loans.
Suzanne Martindale, staff attorney for Consumers Union, said, "Even in an industry with a notorious reputation, this suit against Corinthian makes some shocking allegations.  Luring students into bad loans with phony claims of job placements, and pulling people out of class to shame them into paying up?  It's outrageous."
Pamela Banks, senior policy counsel for Consumers Union, said, "This puts for-profit colleges on notice that these kinds of shameful practices aren't going to be tolerated.  The complaint paints a picture of a company that was banking on a student's failure, literally, because it expected most students to default on their loans.  You see ads for for-profit colleges that sell you on the idea you're going to advance your career.  But too often, people just get saddled with debt, without the education they need to get ahead or the job prospects they were promised."
The CFPB said Corinthian, a publicly-traded company, has more than 100 school campuses across the country, operating schools under the names Everest, Heald, and WyoTech, with approximately 74,000 students. The bureau noted that the U.S. Department of Education delayed Corinthian's access to federal student aid dollars this past summer because of reports of malfeasance. Since then, the bureau said, Corinthian has been scaling down its operations as part of an agreement with the Department of Education, but the company continues to enroll new students.
Consumers Union has called for tougher standards to hold the companies behind for-profit colleges accountable to taxpayers for providing quality education, support, and outcomes.  Federal financial aid should only go to career-education programs that effectively train students and prepare them for gainful employment in a recognized occupation.
A hard-hitting U.S. Senate report in 2012 sharply criticized for-profit colleges for leaving students with lousy job credentials and enormous debt.
The CFPB has posted a special notice to assist past and current Corinthian students here.
***
Contact:  David Butler, dbutler@consumer.org, 202-462-6262 or Michael McCauley, mmccauley@consumer.org, 415-431-6747