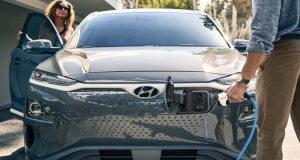 National Drive Electric Week, September 14-22, 2019, is a nationwide celebration to heighten awareness of today's growing availability of plug-in vehicles and highlight the benefits of all-electric and plug-in hybrid-electric cars, trucks, motorcycles, and more. There are National Drive Electric Week events in all 50 states where you can see an all-electric vehicle for yourself, talk to EV owners, and even test-drive one.
Electric vehicles can be very fun to drive, have lower operating costs than gasoline-powered vehicles, are convenient to fuel, and are better for the environment. How much better? Compare how much cleaner an electric vehicle is in your state by using the online interactive map created by Consumer Reports: How Clean Are Electric Vehicles in Your State?
At the top of this site is a one-page, double-sided downloadable Fact Sheet – both in English and Spanish – that highlights some of the major benefits of going electric. You can also visit Consumer Reports electric vehicle guide "Electric Cars 101: the answers to all your EV questions."
National Drive Electric Week is a celebration of the wide variety of electric vehicles available on the market. Join the conversation using #NDEW2019 and find out why a growing number of people are choosing to #DriveElectric: https://t.co/CCGorowh7v pic.twitter.com/E53d80Mh7V

— Consumer Reports Advocacy (@CRAdvocacy) September 16, 2019
Do you already own an EV or plug-in hybrid?
Tell us about your experience.